Our Investment in Rewaa: KSA's leading retail technology platform

We are leading a $27m (SAR 100m) series A investment round in Rewaa, the leading retail management software in KSA. Rewaa enables retailers to adopt omnichannel strategy, which is seamlessly integrates multiple sales and communication channels to provide customers with a unified and consistent shopping experience, to manage their businesses through a one-stop-shop solution. The platform provides solutions to manage inventory, customers, suppliers, and E-invoices.
The omnichannel retail strategy has emerged as a successful sales strategy to engage consumers from multiple fronts and enables a seamless shopping experience. According to a report from IDC Retail Insights, businesses that employ an omnichannel strategy report a 15% to 35% increase in average transaction size, plus a 30% higher lifetime value than those that shop using only one channel.
When it comes to retail, the Saudi retail industry is expected to reach SAR 332 billion in market size by 2025, according to Euromonitor, BCG, and others - an increase of 24% from the SAR 266 billion recorded in 2020. Yet, the Saudi market falls well behind of its GCC neighbors in terms of physical retail shops . To overcome this challenge, retailers can leverage advanced technologies such as omnichannel strategies, which provide a seamless shopping experience across various channels and locations. Implementing omnichannel approaches can help bridge the gap for retailers in Saudi Arabia and create new revenue streams with minimal capital expenditure.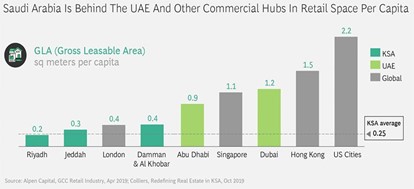 In addition, the retail market in Saudi is fragmented. This is due to geographical spread from one end, and the rapid penetration of e-commerce from the other end. This transformation has had a profound impact on the retail landscape, leading to substantial growth in both online and offline channels. Offline outlets are facing the challenge of competing with online players and are striving to adapt and remain competitive in this continuously evolving market. Despite growth in online sales, McKinsey & Company estimates about 80 percent of US retail sales still happen in brick-and-mortar stores and we expect the same trend in KSA. Based on the Ministry of Commerce's open data, total number of active Commercial Registrations (CRs) is 3.6 million out of which around 1 million CRs are in wholesale or retail. This is Rewaa's target market which consists of mid-sized companies in the retail and wholesale market in Saudi Arabia.
The integrated approach to retail requires an integrated solution that caters to both online and offline commerce equally. Considering the local retail market today, retailers are still dealing with a fragmented structure whereby conventional offline POS, supplier, and inventory management systems require omnichannel-capable technology. Rewaa's unique technology will help to achieve the Saudi National Transformation Program to enhance digital transformation in Saudi Arabia. The startup is led by Mohammed Al-Qasir and Abdullah Al-Jadhai, co-founders at Rewaa.
Rewaa provides a competitive product with local user experience, regulations, language, and seamless integration with a cloud-based SaaS platform designed to manage operations. The company's platform facilitates multi-channel selling and consolidates inventory and unified orders on one screen, integrating multiple branches, digital marketplaces, shopping carts, and local delivery applications, enabling e-commerce companies and retailers to sell in multiple and different channels efficiently.
We met the founders Mohammed and Abdullah back in 2018 in Wa'ed incubator. We have observed their journey as they developed their product from scratch and solved technical challenges and found the right product market fit. Abdullah and Mohammed are ambitious, capable of challenging the status quo and executing the business plan to be the region's leading omnichannel-focused platforms to manage both online and offline retailers in Saudi Arabia. We look forward to supporting the company and its founders on their mission to unlock the blueprint for digitizing the Saudi retail market and achieving unicorn status.