Investing at the intersection of climate tech and artificial intelligence with Tenderd

We recently announced our investment in Tenderd, an AI-powered platform that provides end users with actionable insights to increase asset utilization and reduce emissions, targeting heavy industries. Tenderd's platform helps companies reduce their carbon footprint by collecting data from heavy machinery and equipment, analyzing that data, and providing actionable insights for reducing emissions.
The need for companies to adopt new ways to reduce their carbon footprint and become more sustainable is continuously increasing worldwide. 2023 is shaping up to be the hottest year ever recorded globally as our planet continues to shatter heat records due to global warming and its relation to human emissions of CO2 and other greenhouse gases. However, the road to sustainable, emission-free, operations can be difficult, especially for industries that rely on heavy machinery and equipment. Here, the potential demand for disruptive "climate-tech" solutions starts to rise.
According to a new report from Future Market Insights, the global climate tech market is poised for massive expansion over the next decade. The report forecasts the market growing from $20.34 billion in 2022 to $182.54 billion by 2033, with a compound annual growth rate of 25%. Factors driving this meteoric rise include government regulations, investor pressure, consumer demand, and the potential for major cost savings from implementing climate tech solutions.
Playing at the intersection of climate-tech and artificial intelligence (AI) - another disruptive technology with an equally promising outlook - is Tenderd, with its proprietary AI models and IoT sensors enabling industries to decarbonize their heavy-duty operations.
Recently, we've seen AI transform industries as wide as customer service, healthcare, finance, media and education. What Tenderd is committed to achieve is to translate that digital transformation into traditional industries like construction and logistics, who have been lagging behind when it comes to digitization.
A report by McKinsey and Co. categorizes oil and gas, mining, infrastructure, and logistics as "slow adopters" of AI, failing to keep up with sectors like automotive and finance. With less than 30% of companies in these heavy industries having embedded AI into current processes and offerings, compared to over 60% in financial services, it's clear that the landscape is ready to be penetrated by emerging startups.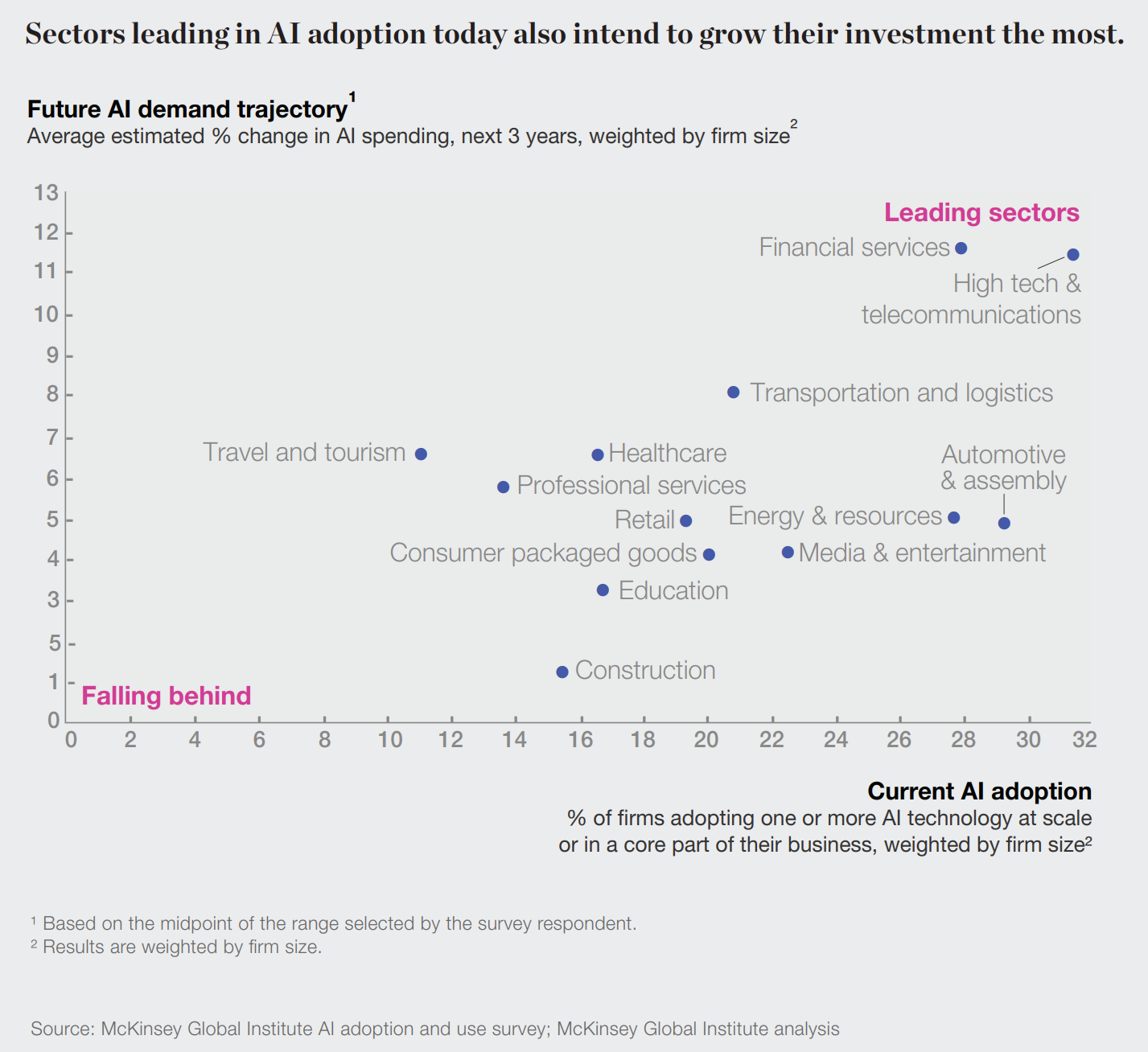 What sets Tenderd's technology apart from traditional approaches to reducing greenhouse gases is its asset management optimization system, as well as its cost-effectiveness for companies who already face major challenges when it comes to balancing costs. The platform is already making measurable differences for some of the world's largest construction and engineering companies, and can be adopted in any industry that uses heavy machinery or equipment, including construction, energy, logistics, and even marine.
We are excited to join Tenderd's mission to solve a global sustainability challenge and to partner with a team of passionate and experienced entrepreneurs, led by Arjun Mohan, mapping a never-ending process of innovation and industry breakthroughs. By leveraging frontier technologies, the company's platform generates actionable recommendations that businesses can implement right away to reduce their carbon footprint - the first step to a cycle of positive change and a greener future.